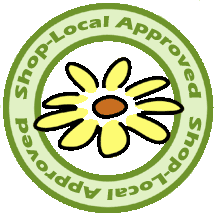 Back to School: An Opportunity to Embrace Community and Shop Locally
Hello friends!
Back to school season is upon us, and personally, I love this time of year. It's a fresh start, a new chapter, and it's filled with the excitement of reuniting with friends and embarking on new adventures. Just like spring ushers in the blooming buds and the cheerful chirping of robins, the back-to-school season brings its own unique charm.
As summer vacation draws to a close, there's a palpable buzz in the air. Families are getting ready, shopping for supplies, and preparing for the return to routine. It's a time when we feel the need to clean up our homes, organize our closets, and set the stage for a successful academic year. The smell of freshly sharpened pencils and the promise of new knowledge are better than any back-to-school sale.
Back-to-school season is when we witness our neighbors emerging from their summer slumber. Parents are seen walking their dogs, and front yards are getting that much-needed sprucing up. People are just friendlier when the weather is nice, and there's a sense of community in the air. During the sweltering days of summer, it's often too hot to linger outside, but as fall approaches, the pleasant weather encourages us to connect with our neighbors again.
Just like spring brings out our naturally social selves, back-to-school season is a time for reunions, BBQs, and casual get-togethers. Remember those days when you could smell your neighbor's steak sizzling on the grill, and you couldn't help but strike up a conversation over the fence? Well, back-to-school season is just like that, minus the fence. It's the perfect time to rekindle those friendly connections and create new memories with your community.
Shopping locally is all about being an active part of your community and supporting the businesses that make it unique. Our local business owners are more than just entrepreneurs; they're our friends and neighbors. As you prepare for the school year ahead, consider exploring the local floral shop for a bouquet that brightens up your home. Visit the local bookshop for reading suggestions that will spark your intellectual curiosity. And don't forget to check out the local shoe store for a new pair of comfortable yet stylish kicks for the school run.
Take the time to get to know your local butcher, who can recommend the best cuts of meat for your week night dinners. Have a chat with the owner of your local garden center to learn the best ways to enhance your outdoor space, creating an inviting haven for relaxation and study sessions.
Our local business owners are just as excited about the back-to-school season as we are. They want us to thrive, enjoy this time of year, and make the most of it. So, let's all get out there, shake off those summer vacation blues, and get socially engaged in our community by shopping locally. Just like the change in seasons, it's a chance for growth, connection, and a fresh start. Here's to a fantastic back-to-school season filled with new opportunities, old and new friends, and the support of our wonderful local businesses.
Cheers!
Katie
Posted On: September 4, 2023
Send us your feedback: