Our Q&A with: Arthur Murray Dance Studio
A locally owned business in Edmonton, Alberta
Today we've asked Rory Pidgeon, the franchise owner of the Edmonton Arthur Murray Dance Studio to answer our Shop-Local questionnaire.
Q: Please describe your business for us:
Many people sit on the sidelines, missing out on all the fun of dancing simply because they have never been taught to do it well. Arthur Murray offers convenient appointment times and personalized lesson plans to help you learn what you want, at your own pace, so you never have to miss out on the joy dancing can bring! Our mission is to provide the community with a high quality dance experience, in a nurturing environment. We believe that learning to dance opens doors to improved health, closer relationships with loved ones and produces a greater passion and joy for life!
Q: Tell us about how you started your business and what was your motivation: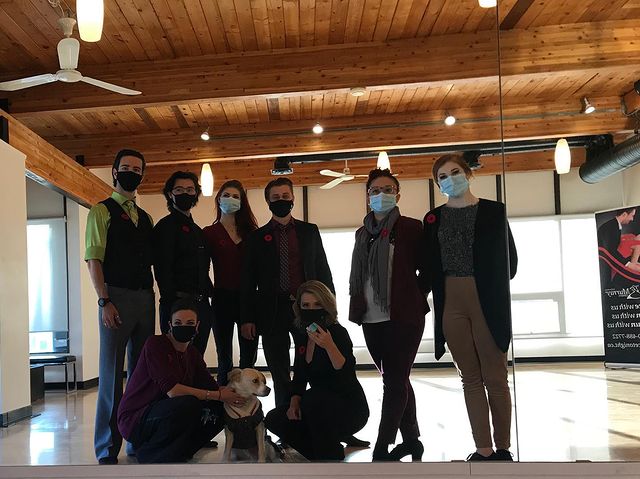 I started working for Arthur Murray when I was 17. This is when I met my best friend and future business partner, Andrea Stein. After over a decade of studying, competing and saving our pennies; Andrea and I were finally able to make our lifelong dream of owning a studio together a reality. We both believe in how Ballroom Dancing can change lives, and that we wish we could teach everyone in the world how to dance.
Q: What makes your business unique?
We love what we do, we are passionate and inspirited to make people's lives better. It is amazing working with couples to get ready for their wedding, and be such an important part of their building a new life together.
Q: Do you have a quote that sums up your business philosophy?
"We change lives through Ballroom Dance"
Q: How is your business coping with COVID-19 and what changes have you made to accommodate for it?
We have implemented many safety features, by working hand in hand with A.H.S. as well as a community of local experts currently working in the healthcare and medical research fields. We have isolated learning spaces, PPE, and a staff member designated to do a top to bottom clean every 45 minutes to name a few examples. As well we do a temperature check and health assessment with everyone as they enter. Hand sanitizer and disinfecting soap as well as masks are available to everyone. We also have four options for distance to help people feel safe and comfortable. You can choose, a regular touch lesson, a no touch lesson, a 6 foot distancing lesson or a virtual lesson. All of which come with different levels of PPE and precautions.
Q: Why do you think shopping locally is important?
I think it is important to keep small business alive. Major corporations are more likely to price gouge and profiteer during times of panic.
Q: Who are some of your favorite local businesses and why?
I tend to shop as locally as I can and mix up which business I go to. A special shout out to Amore Bistro downtown, they are an amazing restaurant with great service.
Q: Any final thoughts?
It is so important right now that we are working on our health. A healthy immune system is one of your best defences against any disease. Staying home if important to flatten the curve, but getting exercise and human connection are also MAJOR factors in a human beings well being. Try dancing, shop local, exercise and eat well and we can come out of this strong.
Thank you, Rory
Contact the Arthur Murray Dance Centre:
Send us your feedback: