10 Great Ways to Shop Local this Valentines Day
Are you confused and worried about what to do for your loved one this Valentineís Day? We have compiled a great list of 10 ways to be romantic while avoiding the ho-hum boring teddies and cheap chocolate. Support locally owned businesses and make everyone happy in 2017:!
1. Dinner at a locally owned restaurant. Support a small independent establishment this year and avoid the big loud uninteresting chains. Make your reservation right now!
2. Dinner at home. Why not pick up groceries from your farmers market or your local grocer and make your loved one a sensational dinner? No worries about catching a cab or finding parking.
3. Take in a movie at a local independent cinema. Support the local owners who usually are playing something interesting and unique. Set the mood for a romantic evening.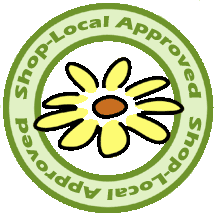 4. Cocktails at a local bar. Treat your partner to a martini at a local lounge. Listen to some cool jazz and loosen up.
5. Buy some romantic prose from a local book store. Ask the owners for recommendations and read to each other while snuggled on the couch.
6. Pick up some unconventional flowers from a locally owned floral designer. Forget the supermarket roses and get an arrangement that was designed by real professionals.
7. Grab a coffee and croissant for a Valentines breakfast at a local coffee shop. Linger over your artisan brew and put away your smart phone.
8. How about a couples pedi? Sit next to each other and hold hands while getting your tootsies pampered.
9. Pick up some locally made chocolates and sweets. Go for a winter walk and sit on a bench in the park and enjoy!
10. Donít forget a pretty card with a heartfelt note. Write something funny and cute that only the two of you will really get. It doesnít have to be profound but it has to be original and said with love.
Happy Valentineís Day!
Katie
Posted On: February 10, 2015
Send us your feedback: