Katie's Top 5 Reasons for Shopping Locally
Hi there friends.
I'm sure there are thousands of reasons to shun the big box stores but hereís my Top 5 Reasons for Shopping Locally.
#5: You are not boring. You are not not bland. Big Box stores carry boring bland products. The selection at your locally owned business is interesting just like you! You are a unique individual. Avoid the white-bread and show how interesting you are. Let yourself shine in what you choose to have in your home or on your body.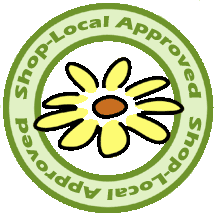 #4: When you choose to shop at a locally owned business you are helping to build and sustain an interesting and vibrant community. Locally owned bookstores hold author readings and events, local cafes support local theater and locally owned boutiques support local designers. Itís a cycle of support that the large chain stores do not engage in.
#3: Letís face it. The big box stores are not there to help you with advice or instruction. The local business owner is an expert in her field and can suggest the best flower bulbs to plant to keep squirrels at bay, the best cuts of meat for your family BBQ or the best book they have just read. They really know what they are talking about!
#2: Locally business owners give more to local charities than big corporations do. A study of charitable giving in Vancouver showed that small companies gave $789 per employee while large companies give $334. Large companies give to where the corporation is headquartered and not necessarily where they do business.
And the #1 Reason to Shop Locally: Locally business owners arenít constrained by buying only from a national distributor. They do business with other local businesses which has the multiplier effect. 63 cents of every dollar you spend at a locally owned business actually stays in the local community. Letís keep the money locally.
The small choices you make today really help your community!
We care and you do too.
Katie
Posted On: October 21, 2014
Send us your feedback: