Change Up That Back To School Routine
Hi there, Friends
Here in Canada we all think of the Labour Day Long Weekend as the unofficial end of summer. Boy did we ever have a beautiful one - weather wise - in these parts. Its a time where we all try to cram in as much summer activities as possible. Eating outside on a patio, BBqing, spending time with family and friends and of course swimming all make for a pretty typical Canadian long weekend celebrating the end of summer.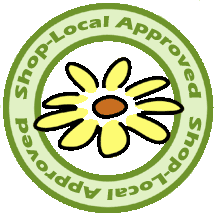 The day after Labour Day kids go back to school and we adults all start to get back to our routines. Even if you don't have school age children its just hard wired in us to think of this time of year as the start of a New Year. So with the start of another year lets be great citizens and support our locally owned businesses. Here's a quick list of ways to do just that.
1. Shop at your local Farmers Market. Get your veggie fix and try new things by chatting to the farmers who actually grow your food. We all need to eat so why not eat healthy locally grown produce.
2. Make Date Night Local Night. Avoid the same old boring chain restaurants and support a locally owned place. Its fun to meet the folks who are cooking your food.These people are our neighbours and have kids on your kids softball team.
3. Gift giving isnt hard. Buy something original from a local artisan who puts their heart and soul into creating amazing pieces. Get your loved one something original.
4. Try a local brewery. There are new independent craft brewers making tasty brews that are not owned by the big guys. Also makes for an excellent Date Night!
5. Get your coffee at locally owned coffee shop. The behemoths with the drive thru windows do not make good coffee and frankly they don't need your money. The owners are going to continue being rich without you. Support a place that values your loyalty and actually makes amazing coffee. Why do we continue to make rich CEOs even richer than they are?
So there's a start. Shopping Local really is all about making your own community great by supporting our talented people.
We Care and You Do Too!
Katie
Posted On: September 7th, 2016
Send us your feedback: